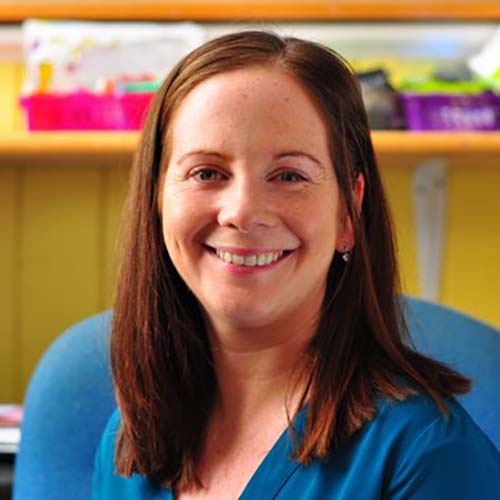 Ms O'Connor teaches the pupils in our Senior Classroom – 3rd to 6th class.
The classroom is setup with the learner in mind; it has bulletin boards/working walls where pupils can actively demonstrate their knowledge about any subject by answering questions posted on the board. Boards are also displayed with historical, grammatical, scientific, numerical and geographical facts. These displays are updated regularly to reinforce the curriculum learning objectives the children are working on. Children's work is also displayed within the class and this is used as a learning tool.
Group work and talk and discussion are promoted within the class. The children sit in small groups where collaborative learning takes place easily.
The classroom is well equipped with computers, laptops, an interactive and also an iPad. The children really enjoy working with ICT and are given every opportunity to develop these skills, e.g. designing PowerPoint slides to present project work, Word Processing and editing their work – adding illustrations, interactive games , coding, etc.
Class routines are displayed and children are given the responsibility of helping with class organisation, e.g. litter monitor, computer monitor, library organisation, playground patrol, reading buddies, etc.
Termly Topics – Senior Room
Ar Scoil – Clár ama – dul siar ar am.
Ábhair scoile. An ábhar scoile is fearr leat. Ag scríobh cur síos ar ár scoil inniu agus ag déanamh compáiread idir scoil inniu ag fadó.
Leithscéil obair bhaile – ról imirt páiste dolba agus muinteoir crosta.
Frasaí: Tosnaíonn scoil ar fiche bomaithe tar éis a naoi.
Críochnaíonn scoil ar a trí a chlog.
Ithim mo lón ag leathuair tar éis a do dhéag.
Is é …. an ábhar scoile is fearr liom.
Tá brón orm ach níl m'obair bhaile déanta mar ….
Bia – Ag amharc ar tíortha difriúil agus an bia atá acu. Ag caint faoi ocras. Ag ordú bia sa bhialann, ag gearán.
Ag cócaireacht – Ag leanúint treoracha. Ag déanamh suas oideas fá choinne béile.
Frasaí: Is é … an bia is fearr liom. Is maith liom …. Is fuath liom …
Ba mhaith liom … le do thoil. Tá … blasta. Itheann said píotsa san Íodail. Itheann said seilide sa Fhrainc.
Reading –
Continuing to develop children's comprehension strategies with emphasis on predicting, visualising and making connections.
Work on Class Novel 'Blood Upon The Rose Easter 1916 The Rebellion That Set Ireland Free'
Writing – Continuing with explicit teaching of writing with emphasis on explanation,
report and persuasive writing.
Spelling – Continuing our current approach to spelling dictation, assessment for
learning and visual learning.
Oral Language – Persuasive language, debating and presenting.
3rd Decimals, Multiplication, Number Patterns
4th Decimals, Multiplication, Pattern
5th Decimals, Number Theory, Division
6th Decimals, Number Theory, Division
St. Brendan – Listen to, discuss and retell the story of St Brendan. Discuss any other Irish legends the children know. Begin compiling individual collections of Irish myths and legends. Dramatise stories and hot seat characters.
Bronze and Golden Age – Children investigate the lives of Bronze Age people and their influence on Irish culture. Work as archaeologists, examining artefacts from this time – brooch, helmet, shield, coin. Investigate everyday life – homes, clothes and farming.
Celtic pastimes, weapons and festivals.
Explorers Over Time – Discuss European explorers and their expeditions around the world. Children work in groups to research an explorer and investigate that person's exploration in more detail – life story, countries explored, reasons for exploration, methods of travel used, what happened on the expedition. Present findings to the class and answer questions.
Europe and the European Union. Location of Europe, label countries, name capital cities, identify flags and symbols. Formation of the EU. Countries that have joined, headquarters, members of parliament, how Ireland is represented. What it means to be part of the EU. Children will work in pairs/small groups to research the countries of the EU and present their information to the class, e.g. Country name, position on map of world and Europe, capital city, currency, languages, traditions, famous landmarks, interesting facts, etc
United Kingdom – Locate UK on map of world, famous landmarks, famous people, foods, traditions, culture, schooling, etc. Compare to Ireland. Human and natural environments.
Magnetism and Electricity –continue working on circuits; investigate the use of insulators, conductors and switches. Look at the history of electricity and different sources of power.
Materials – Children will investigate plastic and identify how it is used. They will recognise that some materials are biodegradable and some are not.
ART
Van Gogh
Watercolours
MUSIC
Tin Whistle
Reading music, clapping rhythms
Listen and Respond, Song Singing – Theme 'Europe'
SPHE
Sessions 4 -10 of Friends for Life Programme